Event highlight this weekend...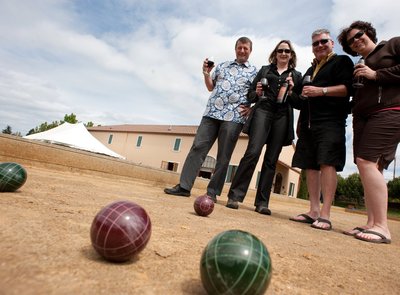 TAPAS AND WINE
Saturday, July 29 | 12:00-3:00pm
Our summer food series continues with Fuel Mobile Kitchen serving tapas outside this Saturday. Plan your weekend in Carlton and make a day of delicious wines, great weather, and maybe some bocce!

To enjoy with your meal, we'll have wine by the glass and
Sangria - a recipe by our very own winemaker Patrick Taylor.

SATURDAY'S MENU

CHILAQUILES (GF) | $8
corn tortillas, sauce rioja, shaved radish, cilantro,
spring onion & 2 eggs any style

MASA CORN FRIES (GF) | $6
with green harissa aioli

ROASTED BRUSSELS SPROUTS (GF) | $8
roasted brussels sprouts, chipotle romesco,
bacon, pepitas & dried cranberries

BUTTERNUT SQUASH EMPANADA (V) | $7
roasted butternut squash, caramelized onion,
fig mole with pear & walnut salad

CRISPY CHICKEN LEGS (GF) | $8
chicken confit, orange-pequin chile drizzle, basil
gremolata & pickled carrots

CHERRY CURED PORK BELLY (GF) | $10
pressed pork belly, white beans, linguica,
fried kale & arugula salad with orange-toasted fennel vinaigrette

ALBONDIGAS | $10
truck-made chorizo meatballs,
goat cheese polenta huacatay & tomato sauce

BUNUELOS | $7
cinnamon dusted donuts,
fresh strawberries & rhubarb-balsamic compote

---

The secret life of wine...

MONTAGNA ROSSA BLENDING EVENT
Last weekend, during our Montagna Rossa blending event, we had the pleasure of showing a number of our club members the process of blending wine.

The event began with a brief education on the history of this wine and the makeup of the blend then continued with guests channeling their inner scientist and mixing together the individual components to build a final product. There was some friendly competition as guests tasted and voted on their favorite blends.

The group did an incredible job and, by the look of it, had a great time doing it! Each person took home a bottle of their composition to enjoy with friends and family.

For info on CFW events and our cellar club head to our website or give us a call!

503.852.0002
---

Another upcoming event...
​

SANGIOVESE GROSSO DINNER
Saturday, August 12 | 6:00pm

Join us for an evening of al fresco dining with a meal prepared by Chef Russ Langstadt and paired with several vintages of our celebrated Sangiovese Grosso. We'll share a little about the history of this wine, the impact of weather on the vintages, and the story of the vines at Ciel du Cheval Vineyard from which we source the fruit. Winemaker Patrick Taylor will host the evening.

DINNER MENU
Contorni
Grilled Radicchio and Sweet Onions
with Fresh Tomatoes, Pecorino and Crispy Prosciutto
Secondi
Confit of Duck Leg with Tamarind Citrus Demi, Israeli Couscous Risotto,
Grilled Summer Vegetables and Herbs
Dolci
Rhubarb Upside Cake and Strawberry Coulis
$85* per person ($70* per person for Cellar Club) includes dinner, wine, and gratuity
*Waived with a case purchase of featured red wines; one dinner per case purchased
EMAIL: amy@canasfeast.com
PHONE: 503.852.0002