Trisaetum
Fall/Winter Touring
Season in the Oregon Wine Country
Oregon Wine Country
Named one of "Portland's Best Winter Getaways"
- Travel + Leisure
Durant Vineyards
The beautiful Willamette Valley & Columbia River Gorge are especially beautiful in Fall & Winter. If you
thought visiting wineries was only a fair-season pastime, think again! 'Ask me about the best time to visit the Willamette Valley (& Columbia River Gorge AVA), and you may not get the same answer twice. It's hard to choose: I love the coiled energy of spring, the flash and fun of harvest each fall, and lazy, hazy, long summer days. But I do reserve a special place in my affections for this time of year. Harvest is wrapping up and things are quieting down. The rain, snow and the sun are all frequent visitors to the hilltops (weather link is to the left), and the vines are busily painting themselves red and gold – one last glorious show before they shed their leaves and sleep through the winter. With rainy, snowy or bright sunny winter afternoons and not as many visitors, it's an ideal time to enjoy the slower, quieter side of wine country. '
Photo courtesy of Memaloose Winery.
Pacific Northwest wineries with winter hours are abundant, with most are open year-round. Now is a perfect time to explore a variety of wineries and plenty of Northwest wines. You are sure to receive more personal
attention, face no crowds, and enjoy a refreshing break from your winter routine.
For your touring pleasure, we have compiled a list of top-notch wineries that welcome your visit... rain or shine or snow. So what are you waiting for? Plan your winter getaway today!
North Willamette Valley
In the northern portion of Oregon's Willamette Valley, from about Portland to Salem, most wineries keep their doors open year-round, presenting a wealth of options for memorable fall & winter wine touring experiences. Heading south from Portland, on Highway 99, you'll come to humble but mighty Winter's Hill Vineyard. The winery's tasting room, open weekends from 12 pm-5 pm in the winter, is where Peter, Emily, Russell, and Delphine Gladhart are growing the
finest grapes, harvesting them at optimum ripeness, and crafting the best wines possible -- a sure cure for cabin fever. From the start of the growing season to the final production of the wines, it's their family's work, pride, and joy.
Some other wineries near Winter's Hill we may suggest include Domaine Serene, Domaine Drouhin, Vista Hills, Archery Summit, White Rose and DePonte as well as many others all open during the fall & wintertime.
Not far from Winter's Hill is another family-owned and operated winery – Torii Mor Vineyards (pictured), one of Oregon's oldest vineyards. Owner Donald Olson says winter can be the perfect time to visit the winery's tasting room, which is open daily from 11 am-5 pm. "Visiting us during the off-season is great if you want individual attention from our staff, since we have fewer people through the tasting room. The scenery is amazing during all seasons, but from the tasting room in winter, you can watch the storms roll in and out of our valley...it's quite ominous!"
Some other wineries near Torii Mor we may suggest include Lange, Erath, Maresh, Joe Dobbes, Argyle, Vidon (pictured) and others all open during the fall & wintertime.
Winter Wine Tasting
Experience Wine Tasting in the Valley! Winter brings both a unique beauty and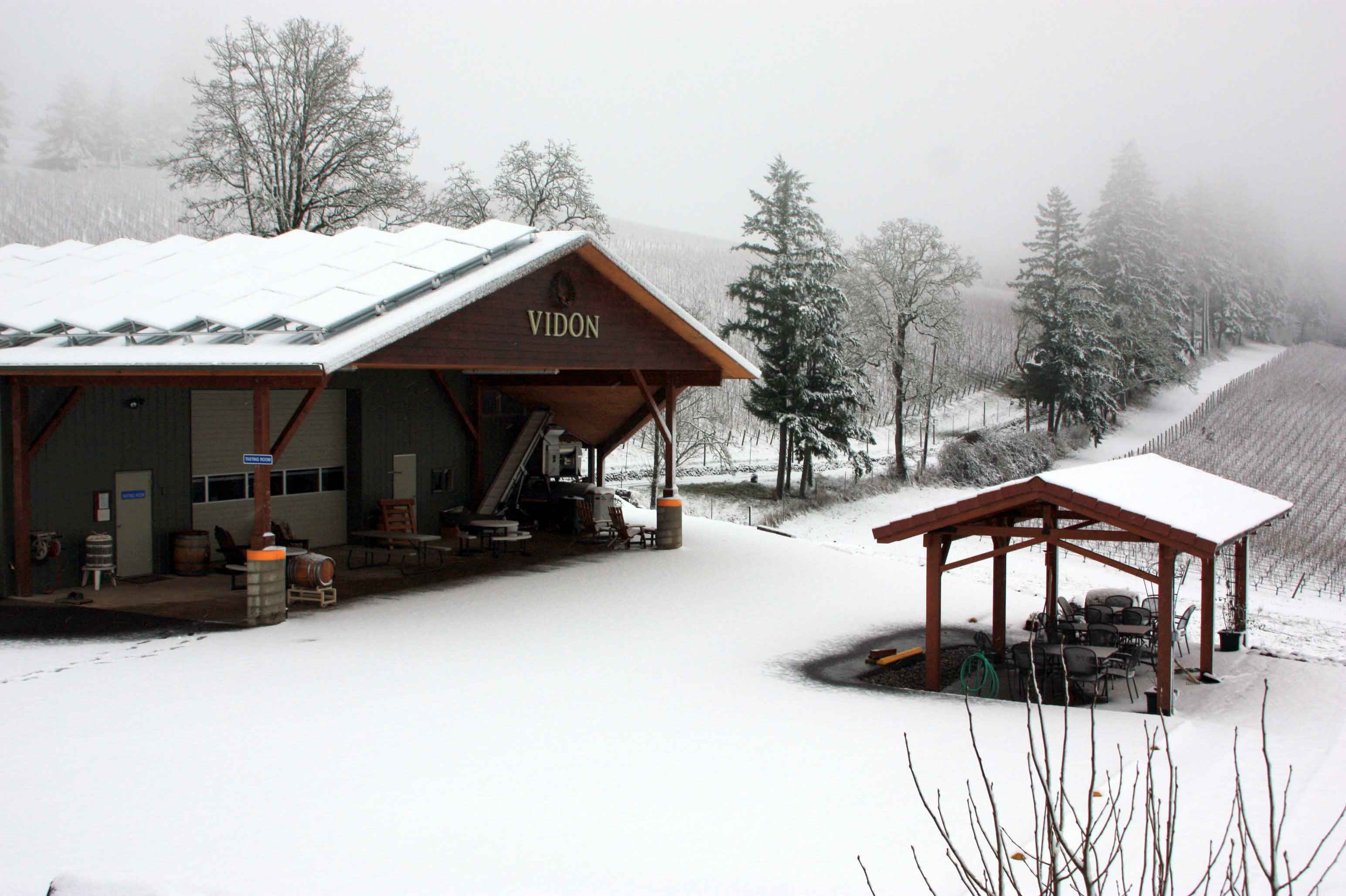 intimate wine tasting experience to the Willamette Valley. Rain, snow or shine... gorgeous scenery and fantastic wines await.

Join us for wine events as part of Willamette Valley By The Glass. Enjoy special releases, reserve tastings, food pairings, live music, seminars to build your palate and more!

The Willamette Valley is the Heart of Oregon Wine Country. As Oregon's leading wine region, the Valley has two-thirds of the state's wineries and vineyards and is home to more than 200 wineries and tasting rooms. It has been recognized as one of the premier Pinot noir producing areas in the world.
Fun Fact
Starting at the west side of our Columbia Gorge AVA (near Hood River) and heading east towards The Dalles, rainfall diminishes almost one inch per mile while sunshine increases dramatically. Great to know heading into the colder seasons!
It's the perfect time to go wine tasting in the Valley! Come explore the exciting wines of the Willamette Valley
"If you would test the soul of a friend...rub elbows with him for five months! One of three things will surely happen: You will hate each other afterward with that enlightened hatred which is seasoned with contempt; you will emerge with the contempt tinged with a pitying toleration, or you will be close, unquestioning friends to the last six feet of earth--and beyond. All these things will cabin fever do,
and more. It has committed murder, many's the time. It has driven men crazy. It has warped and distorted character out of all semblance to its former self. It has sweetened love and killed love. There is an antidote". . . Wine Tours!!!*
* Cabin Fever by B. M. Bower
Cooler Dates—Warmer Rates 10% off
Check out the ON-LINE WINTER DISCOUNT COUPON!
<![if !vml]>
<![endif]>
<![if !vml]>
<![endif]>